Dehradun to Dharamshala is about 407.8 km (takes about 9 h 12 min), get Dehradun to Dharmshala Taxi Service with unbeatable and incomparable cab fares.
Dharamshala is a city and a municipal corporation in Kangra district in the Indian state of Himachal Pradesh.
It is the district headquarters, formerly known as Bhagsu.
The Dalai Lama's residence and the headquarters of the Central Tibetan Administration (the Tibetan government in exile) are in Dharamshala.
Dharamshala is 18 kilometres from Kangra,  it's a city in the upper reaches of the Kangra Valley and is surrounded by dense coniferous forest consisting mainly of stately Deodar cedar trees.
The suburbs include McLeodGanj, Bhagsunath, Dharamkot, Naddi, ForsythGanj, Kotwali Bazaar (the main market), and Kaccheri Adda (government offices such as the court, police, post, etc.), Dari, Ramnagar, Sidhpur, and Sidhbari (where the Karmapa is based).
Dharamshala is the center of the Tibetan exile world in India. Following the 1959 Tibetan uprising, there was an influx of Tibetan refugees who followed the 14th Dalai Lama. His presence and the Tibetan population have made Dharamshala a popular destination for Indian and foreign tourists, including students studying Tibet.
One of the main attractions of Dharamshala is Triund hill. Jewel of Dharamshala, Triund is one day trek at the upper reaches of McLeodGanj, about 9 km from McLeodGanj.
Popular Destinations in Dharamshala
Dal Lake
This beautiful lake is set amidst lush green Deodar forests at an altitude of 1,775 metres and exudes transcendence in peaceful surroundings.
Located at a distance of 2 kilometres away from McLeodganj Market, Dal Lake is just a walk away and also happens to be a major attraction for trekkers as it serves as a base camp for several trekking expeditions. But if you don't want to walk all the way, you can also take Dehradun to Dharmshala Taxi Service from us or go by car.
The lake is also known for a popular temple of Lord Shiva that's located on its banks.
Kangra Valley
Kangra Valley is situated in Himachal Pradesh, India.
It is a popular tourist destination, with the peak season around March and April.
The Kangri language is spoken there. Dharamshala, the headquarters of Kangra district, lies on the southern spur of Dhauladhar in the valley.
It is home to Masroor Rock Cut Temple, also known as the "Himalayan Pyramids", a possible contender for nomination as a UNESCO World Heritage Site.
Bhagsunag Falls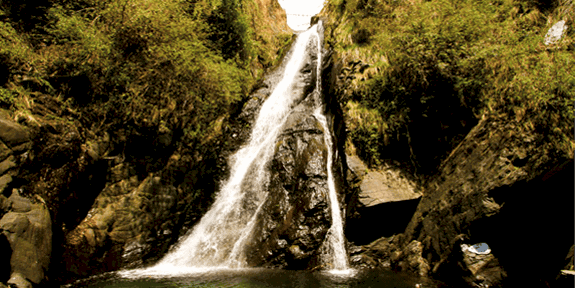 Also called Bhagsu Falls, this site houses the famous Bhagsunath Temple, dedicated to Lord Shiva. This is a famous tourist attraction and also an important place for Hindu pilgrims.
The cascading waterfalls, about 20 metres in height, are an absolute marvel to look at, especially during the monsoons.
There is a nice cafeteria next to the falls and the area serves as an excellent picnic spot for tourists.
Bhagsunag Falls is located about 2 kilometres away from McLeodganj and are the best visit while on a trek, although you can also drive up to Bhagsu village.
Chintpurni
Chintpurni is a major pilgrimage centre and one of the Shakti Peethas in India.
The Chintpurni shakti peeth (Chhinnamastika shakti peeth) is located in Una district Himachal Pradesh state, surrounded by the western Himalayas in the north and east in the smaller Shiwalik (or Shivalik) range bordering the state of Punjab.
The Chintpurni Shakti Peeth is dedicated to the temple of Chinnamastika Devi or Chinnamasta Devi. Chhinnamasta or Chinnamastika temple is one of the 7 major and 51 total Shakti Peethas. Here, Chhinnamasta is interpreted as the severed-headed one as well as the foreheaded one.
So, dear visitor, if you have a plan to visit Dharamshala with your family, friends or even alone then all you have to do is Book our Dehradun to Dharmshala Taxi Service package.
Cars Available
We have a fleet of different comfy, AC/NON AC cabs or traveler buses. That makes you feel so comfortable. Dehradun Cabs have so nominal charges that cannot be beaten by any other taxi provider all over Uttarakhand. You can have a look at these different cars and chose according to your need. You just need to tell us your budget.
So, if want to go for a short peaceful, adventurous trip that gives you unforgettable joy then book with Dehradun Cabs now.