Dehradun to Rishikesh-45.8 km drive
Rishikesh the Yog Nagri of India, Dehradun Cabs is not just restricted to Dehradun. We at Dehradun Cabs with our Dehradun to Rishikesh Taxi, have opened up our wings to other most stunning places of Uttarakhand. and Rishikesh is one of them.
So, if you're looking for dependable car rental options in Rishikesh, Dehradun Cabs has a large selection of taxis to choose from.
The taxi fare from Dehradun to Rishikesh will vary depending on the type of vehicle you choose.
You can rent a car from Dehradun to Rishikesh and choose from any of our AC cabs- Hatchbacks, Sedans, Innovas, Tempo Travellers- or book a Dehradun airport to Rishikesh cab and travel in great comfort and without strain, no matter how long your journey is.
Tourist packages from Dehradun to Rishikesh to suit your needs
Dehradun Cabs provides fully customizable one-way, one-day, and multi-day Dehradun to Rishikesh Taxi packages. For more information on our car rental services, please visit our page, tourist packages from Dehradun to Rishikesh.
You can also contact us at the above-mentioned customer service number to receive exciting discounts and seasonal offers on your customised packages.
Exotic Places in Rishikesh
Ram Jhula

In our Hindu Mythology, it is said that when Lord Rama killed Ravana he made a hard self-punishment that's why he came to the Himalayas.
And when they were here they made Ram and Laxman Jhula. Later on, Ram Jhula was rebuilt by Public Works Department with the help of Sivananda Ashram in 1980.
The span of this suspension bridge is almost 450 feet. The moment you step into Ram Jhula you feel like you are swinging while walking.
Boating is also available to cross the river. There is a bazaar on both sides of the bridge for shopping.
You can get precious and artificial gems and stones, clothes, worship material, spiritual music CDs, etc. from this local Bazar.
Ram Jhula has Sivananda Ashram, Yog Niketan Ashram, and Omkarnanda Ashram at the one end and Swarg Ashram, Gita Bhawan and Parmarth Niketan Ashram on the other side.
With Dehradun Cabs you can visit all these ashrams and temples to feel the blessings of the deity.
You can have an enormous view of the river Ganga while standing in the mid of Ram Jhula. Dehradun Cabs make all sorts of arrangements as well if you want to stay there for a day.
Laxman Jhula
Laxman Jhula is the famous iron suspension bridge across the river Ganges in Rishikesh. You can book Dehradun Cabs to visit this place which is 4.5 km from the main city.
In Hindu mythology, it is said that Lakshmana (Brother of lord Ram) crossed the river Ganga here by jute rope.
Rai Bahadur Surajmal Jhunjhunwala, the father of Rai Bahadur Sherprasad Tulsan rebuilt this bridge as Laxman Jhula in 1929.
The length of this suspension bridge is approximately 240 meters.
Lackman Jhula has now become the most popular tourist spot.
Tourists from different nooks of the country or even outside the country visit Rishikesh every month.
Lakshman Jhula is momentum for Rishikesh city. Lakshman temple and Terah Manzil Temple is known as Trayambakeshwar Temple too are also situated here.
From the bridge, you can have a spectacular view of the river Ganga.
Lakshman Jhula is a pedestrian bridge but it is also used for bikes and other two-wheelers.
Both sides of the bridges are surrounded by many local shops so you can buy precious or artificial stones, arthritis, paintings, statues of different gods and goddesses, and other things.
Triveni Ghat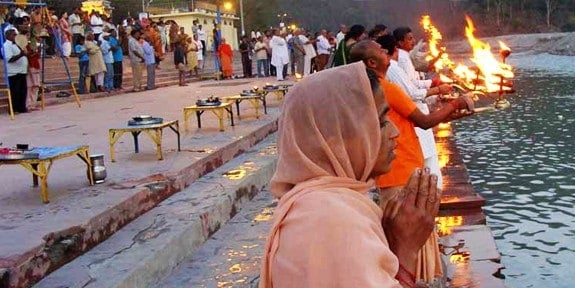 The most popular Ghat in Rishikesh is Triveni Ghat.
Triveni Ghat has a confluence of the three most significant rivers in the Hindu religion the Ganga, the Yamuna, and the Saraswati.
Once you book your package with Dehradun Cabs will drop you at Triveni Ghat.
There you can have a holy dip in the river. Triveni Ghat is considered the most sacred place for a holy dip.
The main daily eye-catching and alluring event is Maha Arti. This Arti is for the Goddess Ganga.
Dehradun Cabs has gone to great lengths to ensure that customers have the best possible experience during their trips, from the ease of booking to the quality of cabs to our courteous chauffeurs who immediately put you at ease.
Adventure Activities in Rishikesh
Bungee Jumping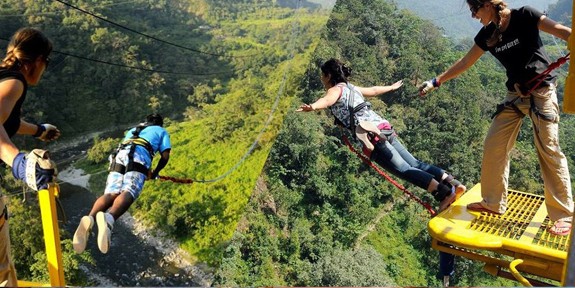 Bungee Jumping, a renowned tourist activity in Rishikesh, is a must-do for any adrenaline junkie visiting the city. With an elevation of 83 meters, this is India's highest bungee jumping platform.
Rafting
River rafting is a concept that all adventure seekers will be familiar with. Your adrenaline is pumping as you speed through the rough areas of the river. River rafting is one of the most popular adventure activities because it is thrilling and challenging.
Yoga
Rishikesh, also known as the World Capital of Yoga, is the most popular place to learn and practice yoga. When the Beatles came to Rishikesh in 1968, they put the little Indian city on the map.
Trekking
Trekking in Rishikesh is perhaps one of the fascinating things among all the other activities. You can find your way to exciting destinations with the aid of meandering thru the one's verdant meadows and visiting those steep pathways. Large Swing
Zipline Tour
Ziplining in Rishikesh is an adventure that is not to be missed. It's a dream come true to be able to zipline across the clouds in the mountains. This may be done in Shivpuri, one of Rishikesh's top ziplining locations.
Rock Climbing
The Himalayan metropolis of Rishikesh in Uttarakhand is a famous rock-mountain climbing area in Rishikesh, India. Climbing rocks is an outstanding technique to help your physical and intellectual skills.
Cars Available
We have a fleet of different comfy, AC/NON AC cabs or traveller buses. That makes you feel so comfortable. Dehradun to Rishikesh Taxi have so nominal charges that cannot be beaten by any other taxi provider all over Uttarakhand. You can have a look at these different cars and chose according to your need. You just need to tell us your budget.
So you can plan your visit to Rishikesh and Dehradun to Rishikesh Taxi will make your trip more exciting by giving you quick and easy cabs with panoramic views of the listed places in Rishikesh.