Dehradun to Haridwar-53 km Drive
You can plan your short weekend trip to Haridwar with Dehradun Cabs, we will give you the best and most affordable Dehradun to Haridwar taxi service.
Dehradun Cabs will pick and drop you from Haridwar to your doorstep anywhere in North India.
Haridwar is "Hari Ka Dawar" which means that you are stepping into the land of god and goddess.
Haridwar is situated near the banks of the river Ganga, the holy river.
Once you look at the purity of water and its flow you feel like this deity giving her blessings.
Haridwar is the gateway to the Himalayas. We will take you on a tour of this most religious and spiritual place.
You just need to tell us your travel dates, if you'll be travelling in a group, with family or alone, and what will be your budget.
Dehradun Cabs will give you a perfect Haridwar tour package accordingly.
Our packages include your hotel, places to visit, your daily schedule, sightseeing, etc.
Our expert drivers have bag full knowledge about the temples, ashrams, the Ganga river, and ghats.
Even if you are booking us for a day visit to Haridwar for a religious ceremony on Ghats we will assist you.
Dehradun Cabs also organize group tours for Haridwar and nearby.
We'll schedule your plan at affordable prices from hotel booking to cabs, sightseeing, and shopping. Our fares for cabs are so reasonable and wallet-friendly.
Exotic Places in Haridwar
Mansa Devi Temple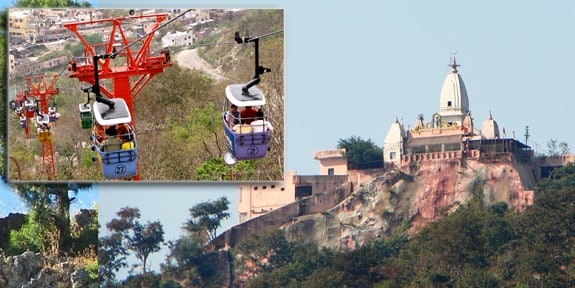 Dehradun Cabs list Mansa Devi as the first place to visit when you enter Haridwar. Mansa Devi is seed peetha devoted to a form of Shakti.
It is believed amongst Hindus that this Shakti emerged from the mind of Lord Shiva.
Mansa is regarded as the sister of the Nāga (serpent) Vasuki. Mansa Devi temple is located at the top of Bilwa Parvat on the Shivalik Range.
This temple is also known as Bilwa Tirth and is known among the five pilgrimages within Haridwar.
The term Mansa means wish and it is believed that the goddess fulfils all the wishes of a sincere devotee. So if you want that your wishes to be fulfilled by Mansa Devi then visit here.
You can tie threads to the branches of a tree located inside the temple. And once your wish gets fulfilled, you must visit again to the temple to untie the thread.
At Mansa Devi, you can offer coconuts, fruits, garlands, and incense sticks to worship her.
Mansa Devi is connected with cable car services and a route of trekking.
Dehradun Cabs will drop you at the nearest stoppage in case you want to go on a walk. And even arrange your booking for cable cars. You can see the enchanting and beautiful view of Haridwar city.
Har Ki Pauri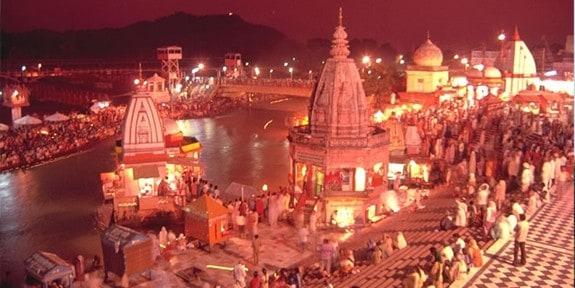 Har Ki Pauri is the most famous travel destination in Haridwar. Always packed with thousands of yatries.
This revered place is the major landmark of the holy city of Haridwar. Literally, "Har" means "Lord Shiva" who is the god according to the Shaivite Rishav school of Hindu theology, "Ki" means "of" and "Pauri" means "steps".
Lord Shiva and Lord Vishnu are believed to have visited the Brahmakund in Har Ki Pauri in the Vedic times.
There is a large footprint said to belong to Lord Vishnu on a stone wall.
The panoramic view of the River Ganges, and its water flow gives you eye soothing relaxation. Its shows how big the majesty of the river Ganges is that it takes all your bad once you dip in it and gives you blessings.
People visit Har Ki Pauri, especially for a dip on auspicious occasions like Purnima, Kumbh, Baisakh,chait, etc.
It is believed that if you perform prayers on the ghats for your ancestors they get most for sure.
Har Ki Pauri is surrounded by many big and small shops where you can buy pearls, precious stones jewellery, even artificial jewellery, woollen cloths, wooden handicrafts, and jute items.
Dehradun Cabs suggest you some finest retro at Har Ki Pauri where you can have such bhajan made up with desi ghee.
Har Ki Pauri is an amazing place to visit with family and friends. Dehradun Cabs will arrange everything for you to have a marvellous trip. So, reserve our Dehradun to Haridwar taxi service package.
Chandi Devi Temple

Chandi Devi Temple is one of the Tirth amongst those five Births in Haridwar.
Chandi Devi Temple has its religious value. Dehradun Cabs take you to Chandi Devi Temple and drop you at the stoppage.
You can afterwards take a trek route or can go by cable car. Chandi Devi Temple was built in 1929 by Suchat Singh the King of Kashmir.
This temple is dedicated to Chandi Devi who is one of the avatars of Mata Rani.
The temple is situated atop the Neel Parvat on the Eastern summit of the Sivalik Hills, the southernmost mountain chain of the Himalayas.
The state of Chandi Devi was placed by Adi Shankaracharya, one of the greatest priests of the Hindu religion.
This temple is situated at the top of Neel Parvat on the Eastern summit of the Sivalik Hills, the southernmost mountain chain of the Himalayas.
Chandi Devi temple is also known as Neel Parvat Teerth. Chandi Devi Temple is also a Siddh Peetha. Whereby the blessings of Chandi Devi all your wishes come true.
You can offer prayers,chunari with coconut, and Prasad to Mata Rani. Dehradun Cabs will do the booking for the cable car for you.
Or else will guide you if you prefer the trekking route for the temple. Once you'll reach the top you can see the beautiful scenery of Haridwar City made by Mother Nature.
Rajaji National Park

Dehradun Cabs will give you a most amazing and adventurous tour package for Raja Ji National Park.
We make it so reasonable including the entry fees that it won't trouble your pocket.
You can come with your family, friends and even on a group tour.
We are capable enough to make your safari most memorable for your life. We even take care of your safety foremost.
We take proper precautions prescribed by Government authorities once you enter Raja Ji National Park.
So, book our Dehradun to Haridwar taxi service now and gets a high discount as well.
Raja Ji National Park is for adventurous and animal lovers, Dehradun Cabs will take you close to wildlife.
Raja Ji National Park has located on the outskirts of Dehradun, Haridwar, and Rishikesh.
It's spread near about 820.20 sq. km. It has the river Ganga n both sides. Raja Ji National Park is rich in biodiversity. Raja Ji National Park was founded in 1983.
This Raja Ji National Sanctuary is named after well-renowned freedom fighters and the first Governor-General of independent India i.e. Raj Gopalacharya.
Dehradun Cabs will do all the necessary arrangements for you once you book this package with us.
Our Dehradun to Haridwar taxi service package includes your departure to Raja Ji National Park. Then your lodging arrangements in Resorts, hotels or camps, jungle safari, photoshoots, flooding. Book us and experience the plethora of Wildlife and Nature more closely.
Cars Available
We have a fleet of different comfy, AC/NON AC cabs or traveller buses. That makes you feel so comfortable. Dehradun Cabs have so nominal charges that cannot be beaten by any other taxi provider all over Uttarakhand. You can have a look at these different cars and chose according to your need. You just need to tell us your budget.