Dehradun to Manali is about 429.6 km (takes about 10 h 54 min)
Manali is a hill station nestled in the mountains of the Indian state of Himachal Pradesh near the northern end of the Kullu Valley, at an altitude of 2,050 m (6,726 ft) in the Beas River Valley, when visiting Manali, you can book Dehradun to Manali Cabs.
It is located in the Kullu district, about 270 km (168 mi) north of the state capital, Shimla.
With a population of 8,096, the small town is the beginning of an ancient trade route to Ladakh and, from there, over the Karakoram Pass on to Yarkand and Khotan in the Tarim Basin.
It is a popular tourist destination and serves as the roadway to other northern hill stations.
Dehradun to Manali is a popular tourist route because it caters to all types of visitors, whether they are on a family vacation away from the heat of Delhi, adventure sports enthusiasts, nature lovers, couples on honeymoon, or people with spiritual interests.
The road from Dehradun to Manali is well-connected via NH154. The distance between Dehradun and Manali is 501 kilometres, and the journey takes 12 hours.
Famous Places in Manali
Rohtang Pass
Rohtang Pass (elevation 3,978 m (13,050 ft)) is a high mountain pass on the eastern Pir Panjal Range of the Himalayas around 51 km (32 mi) from Manali. It connects the Kullu Valley with the Lahaul and Spiti Valleys of Himachal Pradesh, India. Manali-Leh Highway, a part of NH 21, transverses Rohtang Pass.
The pass provides a natural divide between the humid Kullu Valley with a primarily Hindu culture (in the south) and the arid high-altitude Lahaul and Spiti valleys with a Buddhist culture (in the north). The pass lies on the watershed between the Chenab and Beas basins. On the southern side of this pass, the Beas River emerges from underground and flows southward, and on its northern side, the Chandra River (flows from the eastern Himalayas), a source stream of the river Chenab, flows westward.
Solang Valley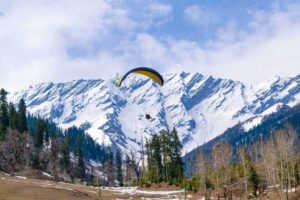 Solang Nala (Valley) derives its name from a combination of the words Solang (Nearby village) and Nullah (water stream). It is a side valley at the top of the Kullu Valley in Himachal Pradesh, India, 14 km northwest of the resort town Manali on Rohtang Pass, and is known for its summer and winter sports conditions. Most commonly offered sports are parachuting, paragliding, skating, and zorbing.
Giant lawn slopes comprise Solang Valley and provide its reputation as a popular ski resort. A few ski agencies offering courses and equipment reside here and operate only during winters.
Snow melts during the summer months starting in May, and skiing is then replaced by zorbing (a giant ball with room for 2 people which is rolled down a 200-meter hill), paragliding, parachuting, and horse riding. A ropeway was recently opened. Going to the summit can be possible by ATVs, Ropeway, or Climbing (Trekking)
Hidimba Devi Temple
Hidimbi Devi Temple, also known as the Hadimba Temple, is located in Manāli, a hill station in north India's State of Himāchal Pradesh It is an ancient cave temple dedicated to Hidimbi Devi, sister of Hidimba, a figure in the Indian epic Mahābhārata. The temple is surrounded by a cedar forest at the foot of the Himālayas. The sanctuary is built over a huge rock jutting out of the ground, which was worshipped as the deity's image. The structure was built in 1553.
The Hidimbi Devi Temple has intricately carved wooden doors and a 24 meters tall wooden "Shikhar" or tower above the sanctuary. The building consists of three square roofs covered with timber tiles and a fourth brass cone-shaped roof at the top. The earth goddess Durga forms the theme of the prominent door carvings. The temple base is made out of whitewashed, mud-covered stonework. An enormous rock occupies the inside of the temple, only a 7.5 cm (3 inch) tall brass image representing goddess Hidimbi Devi. A rope hangs down in front of the rock, and according to a legend, in bygone days, religious zealots would tie the hands of "sinners" by the rope and then swing them against the rock.
Bhrigu Lake
Bhrigu Lake is a lake located at around 4,300 meters (14,100 ft) in Kullu district, Himachal Pradesh, India. It is located east of Rohtang Pass and is about 6 kilometres (3.7 mi) from Gulaba village. It can be reached by trekking either from the Vashishth temple, which is famous for its hot water springs, which is close to the town of Manali or from Gulaba village. There is no settlement in Gulaba, and it is an area of the Pir Panjal mountain range. It is named after Maharishi Bhrigu.
Legend has it that the sage used to mediate near the lake, and hence it has been rendered sacred; the locals believe that due to this, the lake never freezes completely.
Hiring a taxi from Dehradun to Manali is always the best option because a trained driver will handle the driving in traffic while you sit back and relax for the duration of the journey. So, Book now 
Dehradun Cab's, Dehradun to Manali Cabs are always affordable and fit your budget.
Make the most of the services provided by Dehradun to Manali Cabs at the most competitive rates and enjoy a relaxing and trouble-free journey by hiring a car rental from Dehradun to Manali from Dehradun Cabs.
With over a decade of experience in car rental services, Dehradun to Manali Cabs is the best cab service provider in the industry if you want to book Dehradun to Manali car hire services.
Cars Available
We have a fleet of different comfy, AC/NON AC cabs or traveler buses. That makes you feel so comfortable. Dehradun Cabs have so nominal charges that cannot be beaten by any other taxi provider all over Uttarakhand. You can have a look at these different cars and chose according to your need. You just need to tell us your budget.
So, if want to go for a short peaceful, adventurous trip that gives you unforgettable joy then book with Dehradun Cabs now.