Dehradun Cabs is dedicated to providing dependable, high-quality, and prompt transportation services, we provide a diverse selection of vehicles, ranging from sedans to hatchbacks, and MUVs to SUVs.
Depending on your needs, you may order any type of automobile for your Dehradun to Shimla cab service. With Dehradun Cabs' simple booking interface, you can book Dehradun to Shimla cabs without any hassle.
Dehradun to Shimla is about 224.2 km (takes about 5 h 46 min) Shimla is the capital of the northern Indian state of Himachal Pradesh, in the Himalayan foothills. Once the summer capital of British India, it remains the terminus of the narrow-gauge Kalka-Shimla Railway, completed in 1903.
It's also known for the handicraft shops that line The Mall, a pedestrian avenue, as well as the Lakkar Bazaar, a market specializing in wooden toys and crafts.
When you book our Dehradun to Shimla cab service, you can be confident that you will receive high-quality and dependable service for your Dehradun to Shimla car rental.
You can now book your Dehradun to Shimla Taxi in the simplest method with just a few simple clicks thanks to our vast choice of services.
Popular Destinations in Shimla
Popular Destinations in Shimla
The Ridge
The Ridge road is a large open space, located in the heart of Shimla, the capital city of Himachal Pradesh, India.
The Ridge is the hub of all cultural activities in Shimla. It is situated along Mall Road, which is the famous shopping centre of Shimla. Most major places of Shimla like Snowdon, Mall, Jakhoo hill, etc. are connected through the Ridge. It runs east to west alongside the Mall Road and joins it at the Scandal Point on the west side.
On the east side, The Ridge road leads to Lakkar Bazaar, a wooden crafts market. It's the major landmark and the most easily recognized face of the hill station. When winter sets in and when the country had its first major snowfall of the year, most newspapers printed photos of the ridge submerged in clumps of fresh snow.
Prominent landmarks on the Ridge are a neo-Gothic structure Church from 1844 and a Tudorbethan-styled library building built in 1910. There are three statues on the ridge; Mahatma Gandhi, Indira Gandhi, and Dr Y.S. Parmar, the first chief minister of Himachal Pradesh.
The biggest hill station in the world, at one time the base ridge of Shimla had the thickest forest in the area, now the green slopes are covered with firs, pines, the Himalayan oak, and carmine rhododendron trees, among which are dotted red-roofed chalets, half-timbered houses and Gothic Government buildings are visible from The Ridge.
Christ Church
Christ Church, Shimla, is the second oldest church in North India, after St John's Church in Meerut.
It is a parish in the Diocese of Amritsar in the Church of North India. Its incumbent is The Rev. Mushtaq Achher Malk, B.D., M.Th., whose ecclesiastical designation is presbyter-in-charge. Worship is conducted in Hindi and English.
It is designed in the typical Elizabethan style and consists of a great collection of books and ancient scriptures.
The church looks magical at night when lights placed at strategic corners illuminate the beautiful church. The church glows with all its beauty and grandeur and is an amazing sight to look at.
The church contains five fine stained glass windows. One represents the Christian virtues of Faith, Hope, Charity, Fortitude, Patience, and Humility. The pipe organ of Christ Church is the biggest in the Indian subcontinent and was installed in September 1899.
Kalka–Shimla Railway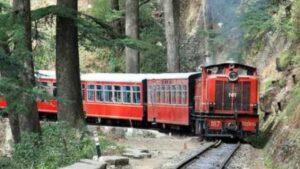 The Kalka–Shimla Railway is a 2 ft 6 in (762 mm) narrow gauge railway in North-West India travelling along a mostly mountainous route from Kalka to Shimla. It is known for dramatic views of the hills and surrounding villages.
Now, Shimla is the capital city of Himachal Pradesh and Kalka is a town in the Panchkula district of Haryana. The route is famous for its scenery and improbable construction.
The route winds from the Himalayan Sivalik foothills at Kalka to several important points such as Dharampur, Solan, Kandaghat, Taradevi, Barog, Salogra, Totu (Jutogh), Summerhill, and Shimla at an altitude of 2,076 meters (6,811 ft).
Originally 107 tunnels were built on Kalka Shimla Railway Track and 102 remain in use. The longest tunnel is at Barog. Engineer Colonel Barog dug the tunnel from both ends and could not align them and was symbolically fined one rupee. He couldn't live with the shame and committed suicide inside the incomplete tunnel. Chief Engineer H.S. Herlington later completed the tunnel with help from Bhalku, a local sadhu.
Summer Hill
Summer Hill is a small town on the outskirts of Shimla, the state capital of Himachal Pradesh at a height of 2,123 meters. It is on a hill, 5 km west of the Shimla Ridge, and is part of the seven-hill cluster.
In the past, Summer Hill has offered residence to Mahatma Gandhi, who stayed here at the Georgian mansion of Rajkumari Amrit Kaur during his Shimla visits. Also known as Potter's Hill, these pine and deodar-laden slopes have many quaint residences, like one belonging to the family of noted painter Amrita Shergil (1913-1941).
Today
Besides being a popular tourist destination, the Indian Institute of Advanced Study (established 1965), housed in the former Viceregal Lodge, which was built in 1884-88, is on the nearby Observatory Hill.
Today, it hosts the Himachal Pradesh University, which mainly offers postgraduate programmers in Humanities, Commerce, Science, Management, Law, and Languages, and was started in 1975.
Most students walk to the Hill Station of Shimla from the campus, though Summer Hill lies on the Kalka-Shimla Railway line.
So, take advantage of Dehradun Cabs' Dehradun to Shimla cab services and have a wonderful time with your family and friends. Dehradun Cabs is a simple web portal that allows you to book a cab from Dehradun to Shimla in just a few clicks.
For their Dehradun to Shimla cab service, our car rental is known among its consumers for giving world-class services at extremely low rates.
By renting a Dehradun Shimla cab from Dehradun Cabs, you may take advantage of Savaari's services at the best rates and enjoy a peaceful and trouble-free journey.
If you need to order a taxi, Dehradun Cabs is the leading cab service provider in the business, with over a decade of experience in automobile rental services.
Cars Available
We have a fleet of different comfy, AC/NON AC cabs or traveler buses. That makes you feel so comfortable. Dehradun Cabs have so nominal charges that cannot be beaten by any other taxi provider all over Uttarakhand. You can have a look at these different cars and chose according to your need. You just need to tell us your budget.
So, if want to go for a short peaceful, adventurous trip that gives you unforgettable joy then book with Dehradun Cabs now.